Case report TB spine at the level of lummbosacral junction (L5-S1 level )
TB spine
Abstract
Tb spine at Thoracolumbar junction is the most affected region .Extrapulmonary TB (EPTB) involving at lumbosacral junction ( L5-S1 level)  is uncommon . Therefore, it is necessary to make diagnosis to achieve the appropriate treatment and favorable prognosis . 
Downloads
Download data is not yet available.
References
1 S. Rajasekaran, Dilip Chand Raja Soundararajan, Ajoy Prasad Shetty, Rishi Mugesh Kanna,Global Spine J.2018 Dec;8(4 Suppl): 96S–108S.Published online 2018 Dec 13.doi:10.1177/2192568218769053
2 Rabha P, Pandey A. Prospective study of reactive tubercular arthritis in patients with pulmonary and extrapulmonary TB. J Assoc Physicians India 2020; 68: 72
3 Wang YY, Xie BD. Progress on Diagnosis of Tuberculous Meningitis. Methods Mol Biol 2018; 1754:
375-386
4 Xu B, Zhang Y, Yu J. Brainstem tuberculous abscesses successfully treated by microsurgical
excision: A case report and review of the literature. Oncol Lett 2017; 13: 2708

5 Schaller MA, Wicke F, Foerch C, Weidauer S. Central Nervous System Tuberculosis : Etiology,
Clinical Manifestations and Neuroradiological Features. Clin Neuroradiol 2019; 29: 3

6 Varghese P, Abdul Jalal MJ, Kandathil JC, Mathew IL. Spinal Intramedullary Tuberculosis. Surg J 3:
e53-e57.

7 Ghali MGZ, Srinivasan VM, Kim MJ, Malik A. Spinal Intramedullary Tuberculosis with Concurrent
Supra- and Infratentorial Intracranial Disease in a 9-Month-Old Boy: Case Report and Comprehensive
Review of the Literature. World Neurosurg 2017; 106: 37-45 [
8 Liu J, Zhang H, He B, Wang B, Niu X, Hao D. Intramedullary Tuberculoma Combined with
Abscess: Case Report and Literature Review. World Neurosurg 2016; 89: 726.e1-726. e4.

9 Bhandari A, Bhandari H, Shukla R, Giri P. Phlyctenular conjunctivitis: a rare association with spinal
intramedullary tuberculoma. BMJ Case Rep 2014; 2014.
10 Kroesen VM, Rodríguez-Martínez P, García E, Rosales Y, Díaz J, Martín-Céspedes M, Tapia G,
Sarrias MR, Cardona PJ, Vilaplana C. A Beneficial Effect of Low-Dose Aspirin in a Murine Model of
Active Tuberculosis. Front Immunol 2018; 9: 798.
11 Das KK, Jaiswal S, Shukla M, Srivastava AK, Behari S, Kumar R. Concurrent cerebellar and cervical
intramedullary tuberculoma: Paradoxical response on antitubercular chemotherapy and need for
surgery. J Pediatr Neurosci 2014; 9: 162-165.
12 Qu LM, Wu D, Guo L, Yu JL. Paraplegia from spinal intramedullary tuberculosis: A case report. World J Clin Cases 2020; 8(24): 6353.
13 Taylor GM, Murphy E, Hopkins R, Rutland P, Chistov Y. First report of Mycobacterium bovis DNA in human remains from the Iron Age. Microbiology. 2007;153(pt 4):1243-1249.
14 Tuli SM. Historical aspects of Pott's disease (spinal tuberculosis) management. Eur Spine J. 2013;22(suppl 4):529-538.
15 Dobson J. Percivall Pott. Ann R Coll Surg Engl. 1972;50:54-65.
16 James J. The discovery of the tubercle bacillus by Robert Koch: a milestone for 123 years [in Dutch]. Ned Tijdschr Geneeskd. 2005; 149:2921-2926.
17 Oettinger T, Jørgensen M, Ladefoged A, Hasløv K, Andersen P.Development of the Mycobacterium bovis BCG vaccine: review of the historical and biochemical evidence for a genealogical tree. Tuber Lung Dis. 1999;79:243-250.
18 McLain RF, Isada C. Spinal tuberculosis deserves a place on the radar screen. Cleve Clin J Med. 2004;71:537-539, 543-549.
19 Luk KDK. Tuberculosis of the spine in the new millennium. EurSpine J. 1999;8:338-345.
20 Pertuiset E, Beaudreuil J, Liote F, et al. Spinal tuberculosis in adults: a study of 103 cases in a developed country, 1980-1994.Medicine (Baltimore). 1999;78:309-320.
21Kulchavenya E. Extrapulmonary tuberculosis: are statistical reports accurate? Ther Adv Infect Dis. 2014;2:61-70.
22 World Health Organization. Global tuberculosis report 2016
23 World Health Organization, Europe
24 World Health Organization, South East Asia. Tuberculosis control in South-East Asia region. Annual report 2016.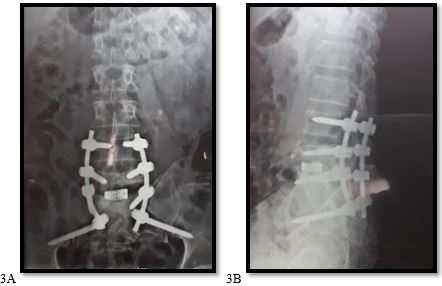 How to Cite
Patel, M. (2023). Case report TB spine at the level of lummbosacral junction (L5-S1 level ). Surgical Review: International Journal of Surgery, Trauma and Orthopedics, 8(6), 35-39. Retrieved from https://surgical.medresearch.in/index.php/ijoso/article/view/262
Copyright (c) 2023 Author (s). Published by Siddharth Health Research and Social Welfare Society
This work is licensed under a Creative Commons Attribution 4.0 International License.