Observational study to correlate BMI with low back pain in young adults
Dr. Madhukrishna Reddy Dandolu

Department of Orthopaedics, DBR & SK Super Specialty Hospital, Tirupati, India.

Dr. Praneeth Jagarlamudi

Department of Orthopaedics, DBR & SK Super Specialty Hospital, Tirupati, India
Keywords:
Low back pain, Body mass index, Obesity
Abstract
Introduction: Low back pain is a common condition comprising a major health problem worldwide& will eventually affect almost everyone in life, men and women equally. In the present generation Overweight and obesity a major health hazard and predisposing to major non communicable disease. Young adults between 20-30yrs presenting with low back ache were taken and measured BMI with standard method.
Results:In our the study correlation of low back pain in relation to the duration and BMI was analyzed, in which we observed as the BMI increases the duration of LBA also increases.
Conclusion: our study the strong association of body mass index in relationship with development of low back ache in young adults of both genders is greatly implicated.
Downloads
Download data is not yet available.
References
1. Frymoyer JW. Back pain and sciatica. N Engl J Med. 1988 Feb 4;318(5):291-300. DOI:10.1056/NEJM198802043180506.[pubmed]

2. Anderson GBJ. The epidemiology of spinal disorders. In: Frymoyer JW, ed. The Adult Spine: Principles and Practice, 2nd ed. New York: Raven Press, 1997:93–141.

3. Burton AK, Clarke RD, McClune TD, et al. The natural history of low back pain in adolescents. Spine (Phila Pa 1976). 1996 Oct 15;21(20):2323-8.[pubmed]

4. Deyo RA. Nonsurgical care of low back pain. Neurosurg Clin N Am. 1991 Oct;2(4):851-62.[pubmed]

5. Andersson GB. Epidemiological features of chronic low-back pain. Lancet. 1999 Aug 14;354(9178):581-5. DOI:10.1016/S0140-6736(99)01312-4.[pubmed]

6. Waddell G. 1987 Volvo award in clinical sciences. A new clinical model for the treatment of low-back pain. Spine (Phila Pa 1976). 1987 Sep;12(7):632-44.[pubmed]

7. Biering-Sørensen F. A prospective study of low back pain in a general population. I. Occurrence, recurrence and aetiology. Scand J Rehabil Med. 1983;15(2):71-9.[pubmed]

8. Clinical standards Advisory Group. Epidemiology Review: The Epidemiology and Cost of Low Back Pain. London: HMSO, 1994.

9. Biering-Sørensen F, Hilden J. Reproducibility of the history of low-back trouble. Spine (Phila Pa 1976). 1984 Apr;9(3):280-6.[pubmed]

10. Burdorf A, van der Beek A. Exposure assessment strategies for work-related risk factors for musculoskeletal disorders. Scand J Work Environ Health. 1999;25 Suppl 4:25-30.[pubmed]

11. Seidell JC. The impact of obesity on health status: some implications for health care costs. Int J ObesRelatMetabDisord. 1995 Nov;19 Suppl 6:S13-6.[pubmed]

12. Groessl EJ, Kaplan RM, Barrett-Connor E, et al. Body mass index and quality of well-being in a community of older adults. Am J Prev Med. 2004 Feb;26(2):126-9.[pubmed]

13. Ridker PM, Genest J, Libby O. Risk factors for atherosclerotic disease. In: Braunwald E, Zipes DP, Libby P. [eds]. Heart Disease:A Text Book of Cardiovascular Medicine, 6th edn. W.B. Saunders Co.: Philadelphia, PA, 2001, p. 1024.

14. Rao SV, Donahue M, Pi-Sunyer FX, et al. Results of Expert Meetings: Obesity and Cardiovascular Disease. Obesity as a risk factor in coronary artery disease. Am Heart J. 2001 Dec;142(6):1102-7.[pubmed]

15. Eckel RH. Obesity and heart disease: a statement for healthcare professionals from the Nutrition Committee, American Heart Association. Circulation. 1997 Nov 4;96(9):3248-50.[pubmed]

16. Gaziano JM. Global burden of cardiovascular disease. In: Braunwald E, Zipes DP, Libby P. [eds]. Heart Disease: A Textbookof Cardiovascular Medicine, 6th edn. W.B. Saunders Co.:Philadelphia, PA, 2001, p. 15.

17. Eckel RH, Krauss RM. American Heart Association call to action: obesity as a major risk factor for coronary heart disease. AHA Nutrition Committee. Circulation. 1998 Jun 2;97(21):2099-100.[pubmed]

18. Wolf AM, Colditz GA. The cost of obesity: the US perspective. Pharmacoeconomics. 1994;5(Suppl 1):34-7. DOI:10.2165/00019053-199400051-00007.[pubmed]

19. Wolf AM, Colditz GA. Current estimates of the economic cost of obesity in the United States. Obes Res. 1998 Mar;6(2):97-106.[pubmed]

20. James PT, Leach R, Kalamara E, et al. The worldwide obesity epidemic. Obes Res. 2001 Nov;9 Suppl 4:228S-233S. DOI:10.1038/oby.2001.123.[pubmed]

21. World Health Organization. Obesity: Preventing and Managing the Global Epidemic. Report of a WHO consultation of obesity.WHO, Geneva, 3–5 June 1977.

22. Frilander H, Solovieva S, Mutanen P, et al. Role of overweight and obesity in low back disorders among men: a longitudinal study with a life course approach. BMJ Open. 2015 Aug 21;5(8):e007805. doi: 10.1136/bmjopen-2015-007805. [pubmed]

23. Shiri R, Karppinen J, Leino-Arjas P, et al. The association between obesity and low back pain: a meta-analysis. Am J Epidemiol. 2010 Jan 15;171(2):135-54. doi: 10.1093/aje/kwp356. Epub 2009 Dec 11.[pubmed]

24. Ezemagu, U.K., C.I.P Anibeze, C.O. Ani and Ossi, G.C. 2016. Correlation of Body Mass Index with Low Back Pain amongst Patients without Injury in a Nigeria Population. Int.J.Curr.Microbiol.App.Sci. 5(11): 371-378. doi: http://dx.doi.org/10.20546/ijcmas.2016.511.042.

25. Louisa Chou, Sharmayne R.E. Brady, Donna M. Association between obesity and low back pain and disability is affected by mood disorders. 2016 Apr; 95(15): e3367.doi: 10.1097/MD.0000000000003367.[pubmed]

26. Chowdhury D, Sarkar S, Rashid MH et al. Influence of body mass index on low back pain. Mymensingh Med J. 2014 Jan;23(1):125-9.[pubmed]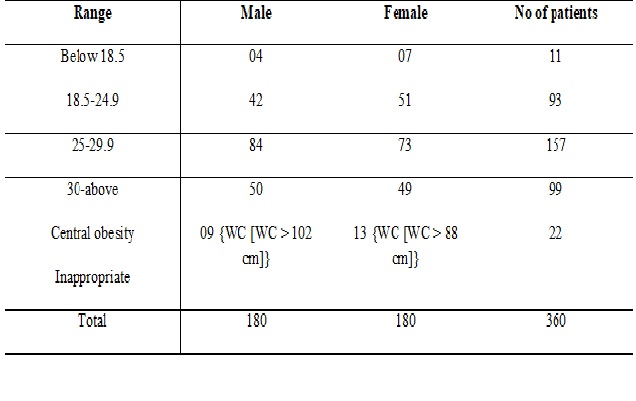 CITATION
DOI: 10.17511/ijoso.2019.i02.06
How to Cite
Reddy Dandolu, M., & Jagarlamudi, P. (2019). Observational study to correlate BMI with low back pain in young adults. Surgical Review: International Journal of Surgery, Trauma and Orthopedics, 5(2), 100-104. https://doi.org/10.17511/ijoso.2019.i02.06