Orthogonal dual plating for fracture of base of 1st metacarpal- original study
Dr. Himanshu D. Shah

Assistant Professor, Department of Orthopaedics, Govt. Medical College, Vadodara, Gujrat, India

Dr. Amit Gupta

3rd Year Resident Doctor, Department of Orthopaedics, Govt. Medical College, Vadodara, Gujrat, India
Keywords:
First metacarpal, Fracture, miniplates, base of 1st metacarpal
Abstract
Background: Treatment of fractures of the base of 1st metacarpal is controversial with multimodality of implant choice available like k wire and miniplates. Secondary displacement rates are higher if fracture is not fixed rigidly. In this study, dual miniplates were used in orthogonal manner to fix the 1st metacarpal base fractures.
Method: all patients were treated using dual miniplates in orthogonal manner by dorso volar approach to evaluate functional outcome.
Results: On follow up, all the patients reported excellent functional outcome with regard to DASH score, Kapandji score and pinch comparison as compared to opposite side.
Conclusion: orthogonal dual miniplates used for fixation of base of thumb metacarpal provides excellent method to rigidly fix the inherently unstable fracture and favouring early mobilization.
Downloads
Download data is not yet available.
References
1. Diaz-Garcia R, Waljee JF. Current management of metacarpal fractures. Hand Clin. 2013 Nov;29(4):507-18. doi: 10.1016/j.hcl.2013.09.004.[pubmed]

2. Bartelmann U, Dietsch V, Landsleitner B. [Fractures near the base of the first metacarpal bone--clinical outcome of 21 patients]. Handchir Mikrochir Plast Chir. 2000 Mar;32(2):93-101.[pubmed]

3. Diaconu M, Facca S, Gouzou S, et al. Locking plates for fixation of extra-articular fractures of the first metacarpal base: a series of 15 cases. Chir Main. 2011 Feb;30(1):26-30.
doi: 10.1016/j.main.2011.01.016. Epub 2011 Feb 4.[pubmed]

4. Haefeli M, Elfering A. Pain assessment. Eur Spine J. 2006 Jan;15 Suppl 1:S17-24. Epub 2005 Dec 1.[pubmed]

5. Christina Gummesson, Isam Atroshi, Charlotte Ekdah. The disabilities of the arm, shoulder and hand (DASH) outcomequestionnaire: longitudinal construct validity and measuring self-rated health change after surgery. BMC Musculoskeletal Disorders 2003; 4(11):1-6.

6. Leamy DJ, Kocijan J, Domijan K, et al. An exploration of EEG features during recovery following stroke - implications for BCI-mediated neurorehabilitation therapy. J Neuroeng Rehabil. 2014 Jan 28;11:9. doi: 10.1186/1743-0003-11-9.[pubmed]

7. Soyer AD.Fractures of the base of the first Metacarpal-current treatment options. Journal American Acad. Orthopaedic Surgery.1999; Nov-Dec; 7(6):403-12.

8. Kollitz KM, Hammert WC, Vedder NB, et al. Metacarpal fractures: treatment and complications. Hand (N Y). 2014 Mar;9(1):16-23. doi: 10.1007/s11552-013-9562-1.[pubmed]

9. Al-Madawy AM, Elatta MM, Hasanin MM, et al. The Use of Minilocked Plate for Management of Unstable Metacarpal Fractures. J Hand Microsurg. 2016 Dec;8(3):159-164. doi: 10.1055/s-0036-1593730. Epub 2016 Oct 14.[pubmed]

10. Andrew J Watt et al. Biomechanical evaluation of metacarpal plate fixation- application of 90 degree internal fixation model. Hand 2015(10): 94-99.[pubmed]

11. van Niekerk JL, Ouwens R. Fractures of the base of the first metacarpal bone: results of surgical treatment. Injury. 1989 Nov;20(6):359-62.[pubmed]

12. Maximillian soong et al. Metacarpal fractures in Athletes. Cur Rev Musculoskeletal Med. 2013 (10): 23-27.

13. Abid H. Et al. Articular fracture of the base of the first metacarpal-comparative study between direct open fixation and extra focal pinning.Chir. Main 2015; 34(3):122-5.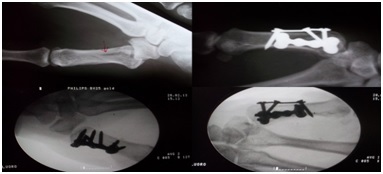 How to Cite
D. Shah, H., & Gupta, A. (2018). Orthogonal dual plating for fracture of base of 1st metacarpal- original study. Surgical Update: International Journal of Surgery and Orthopedics, 4(4), 165-168. Retrieved from https://surgical.medresearch.in/index.php/ijoso/article/view/77