Comparison of PFN (Proximal femoral nail) and DHS (Dynamic hip screw) in treatment of Intertrochanteric femur fractures
Dr Prafulla Herode

Associate Professor, D Y Patel Hospital and Medical College, Department of Orthopaedic, Pimpri, Pune, India

Dr Abhijeet Shroff

Assistant Professor, D Y Patel Hospital and Medical College, Department of Orthopaedic, Pimpri, Pune, India

Dr Mohan Sadaria

Senior Consultant and Orthopaedic Surgeon at Sadaria Orthopaedic Hospital, Surat, Gujarat, India

Dr Patel Jeegar Mohan

Resident at D Y Patel Hospital and Medical College, Department of Orthopedic, Pimpri, Pune, Maharashtra, India
Keywords:
Proximal femoral Nail, Dynamic hip screw, Intertrochanteric femur fracture
Abstract
Introduction: Intertrochanteric femur fractures are common in the elderly people. The frequency of these fractures has increased primarily due to the increasing life span and more sedentary life style brought on by urbanization. The incidence of Intertrochanteric femur fractures is more in the female population compared to the male due to osteoporosis. Aim and Objective- To compare outcome of intertrochanteric femur fractures treated with DHS and PFN.
Methodology: comparative study of proximal femoral nail and dynamic hip screw in the treatment of 50 cases of intertrochanteric femur fractures in the Department of orthopedics, DY Patil Hospital Pune was done from July 2015 to July 2016.
Result: Result were almost similar in both groups.
Conclusion: It is most difficult task to assess and decide as to which technique is better out the two. Some studies reveal DHS to be better than PFN, while some studies show vice versa. Both the techniques are precise, time tested & require reasonable amount of surgical skill. Final decision depends on operative surgeon's preference to specific technique.
Downloads
Download data is not yet available.
References
1. Butt MS, Krikler SJ, Nafie S, Ali MS, Comparison of dynamic hip screw and gamma nail:a prospective, randomized, controlled trial. Injury. 1995 Nov;26(9):615-8. [PubMed]

2. Bridle SH, Patel AD, Bircher M, Calvert PT. Fixation of intertrochanteric fractures of the femur. A randomised prospective comparison of the gamma nail and the dynamic hip screw. J BoneJointSurg Br. 1991 Mar;73(2):330-4. [PubMed]

3. Goldhagen PR, O'Connor DR, Schwarze D, Schwartz E. A prospective comparative study of the compression hip screw and the gamma nail. J Orthop Trauma. 1994 Oct;8(5):367-72.

4. Hoffman, C. W. and Lynskey, T. G. Intertrochanteric Fractures Of The Femur: A Randomized Prospective Comparison Of The Gamma Nail And The Ambl Hip Screw. Australian and New Zealand Journal of Surgery, 1996;66: 151–155. doi:10.1111/j.1445-2197.1996.tb01144.x

5. Radford PJ, Needoff M, Webb JK. A prospective randomised comparison of the dynamic hip screw and the gamma locking nail. J BoneJointSurg Br. 1993 Sep;75(5):789-93. [PubMed]

6. Parker MJ, Handoll HHG. Gamma and other cephalocondylic intramedullary nails versus extramedullary implants for extracapsular hip fractures in adults. Cochrane Database of Systematic Reviews 2010, Issue 9. Art. No.: CD000093. DOI: 10.1002/14651858.CD000093.pub5. [PubMed]

7. J. Anand, The Elements of Fracture Fixation, Churchill Living- stone, NewYork,NY,USA,1997.

8. Banan H, Al-Sabti A, Jimulia T, Hart AJ. The treatment of unstable, extra capsular hip fractures with the AO/ASIF proximal femoral nail(PFN)—our first 60cases. Injury. 2002 Jun;33(5):401-5.

9. Banan H, Al-Sabti A, Jimulia T, Hart AJ. The treatment of unstable, extracapsular hip fractures with the AO/ASIF proximal femoral nail (PFN)--our first 60 cases.

10. Al-yassari G, Langstaff RJ, Jones JW, Al-Lami M. The AO/ASIF proximal femoral nail (PFN) for the treatment of unstable trochanteric femoral fracture, Injury. 2002 Jun;33(5):395-9. [PubMed]

11. Gadegone WM, Salphale YS. Proximal femoral nail - an analysis of 100 cases of proximal femoral fractures with an average follow up of 1 year. IntOrthop. 2007 Jun;31(3):403-8. Epub 2006 Jun 21.

12. Nuber S, Schönweiss T, Rüter A. [Stabilisation of unstable trochanteric femoral fractures. Dynamic hip screw (DHS) with trochanteric stabilisation plate vs. proximal femur nail (PFN)]. Unfallchirurg. 2003 Jan;106(1):39-47. [PubMed]

13. Z.Y.Huang, X.W.Liu, and J.C.Su. Dynamic hip screw vs. Proximal femur nail in treatment of intertrochanteric fractures inpatients aged over 70 years old. Shanghai Medical Journal, 2010;vol.33,no. 11,1042.

14. Pajarinen, J., Lindahl, J., Michelsson, O., Savolainen, V., & Hirvensalo, E. Pertrochanteric femoral fractures treated with a dynamic hip screw or a proximal femoral nail. Bone & Joint Journal, 2005;87-B(1), 76-81. Accessed November 18, 2017.https://doi.org/10.1302/0301-620X.87B1.15249.

15. R.E.S. Pires,E.O.Santana,L.E.N.Santos,V.Giordano, D.Balbachevsky and F.B.dos Reis. Failure of fixation of trochanteric femur fractures: clinical recommendations for avoiding Z-effect and reverse Z-effect type complications. Patient Safety in Surgery, vol.5,no. 1, article17,pp.1–6, 22 June 2011.

16. Pavelka T, Matejka J, Cervenková H. [Complications of internal fixation by a short proximal femoral nail] Acta ChirOrthopTraumatol Cech. 2005;72(6) 344-354.

17. Gallangher J C, Melton L J ,Riggs B Let al. Epidemiology of fractures of the proximal femur in Rocester, Minnesota. Clinical Orthop1980;150:163-171.

18. Heinz T, Vécsei V. [Complications and errors in use of the gamma nail. Causes and prevention]. Chirurg. 1994 Nov;65(11):943-52. [PubMed]

19. Griffin JB. The calcar femorale redefined. ClinOrthopRelat Res. 1982 Apr;(164):211-4.

20. Cummings SR, Nevitt MC. Non-skeletal determinants of fractures: the potential importance of the mechanics of falls. Study of Osteoporotic Fractures Research Group. OsteoporosInt. 1994;4 Suppl 1:67-70. [PubMed]

21. Dean, G. L., S. David, and H. N. Jason. Osteoporotic pertrochateric fractures; management and concurrent controversies. J Bone JtSurg (Am) 2004;72: 737-752.

22. Kevin D. Harington, San Francisco, James O, Jhoston. The management of comminuted unstable intertrochanteric fractures. JBJS 55A, no 7, 1367-76, Oct,1973.

23. Rao, Juluru P, Banzon, Manuel T, Weiss, Andrew B, Rayhack, John, Treatment of unstable intertrochanteric fracture with anatomic reduction and compression hip screw. ClinOrthop and related research, No. 175, 65- 78 May1983.

24. Pathak SK, Mehrotra V, Mall B. Role Of Dynamic Compression HIP Screw In Trochanteric Fractures Of Femur. Indian Journal of Orthopaedics. 1999 Jul 1;33(3):226.

25. Kulkarni GS: Treatment of trochanteric fractures of hip bymodified Richard's compression and collapsing screw, Indian Journal of Orthopedics, vol. 18,No. 1,30,1984.

26. Windoff j, Hollander D A ,Hakmi M , Linhart w 2005, Pitfalls & complications in the use of proximal femoral nail ,Lagenbecks arch surg, feb; 3901(1) Epub 2004 Apr 15.

27. Domingo LJ, Cecilia D, Herrera A, Resines C. Trochanteric fractures treated with a proximal femoral nail. IntOrthop. 2001;25(5):298-301.

28. Frigg R, Appenzeller A, Christensen R, Frenk A, Gilbert S, Schavan R The development of the distal femur less invasive stabilization system(LISS). Injury2001;32Suppl3:SC24-S'C31.

29. AlbaredaJ, LaderigaA, PalancaDetal Complications and technical problems with the gamma nail. IntOrthop;l996;20 :47-50.

30. Babhulkar Sudhir S. Management of trochanteric Fractures. Indian Journal Of Orthopedics; 2006;40(10):210-218.

31. Banan H, Al-Sabti A, Jimulia T, Hart AJ. The treatment of unstable, extracapsular hip fractures with the AO/ASIF proximal femoral nail (PFN)--our first 60 cases. Injury. 2002 Jun;33(5):401-5. [PubMed]

32. Schipper IB, BresinaS, Wahl D, Linke B, Van Vugt AB, Schneider E. Biomechanical evaluation of the proximal femoral nail. ClinOrthopRelat Res. 2002Dec;(405):277-86.

33. Al-yassari G, Langstaff RJ, Jones JW, Al-LamiM.The AO/ASIF proximal femoral nail (PFN) for the treatment of unstable trochanteric femoral fracture.Injury. 2002 Jun;33(5):395-9. [PubMed]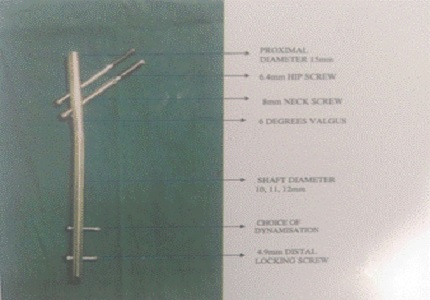 CITATION
DOI: 10.17511/ijoso.2018.i01.07
How to Cite
Herode, P., Shroff, A., Sadaria, M., & Jeegar Mohan, P. (2018). Comparison of PFN (Proximal femoral nail) and DHS (Dynamic hip screw) in treatment of Intertrochanteric femur fractures. Surgical Review: International Journal of Surgery, Trauma and Orthopedics, 4(1), 37-44. https://doi.org/10.17511/ijoso.2018.i01.07