Incidental Finding Of Pseudo Aneurysm Of Superficial Femoral Artery And Severe Life-Threatening Bleeding From it During Revision Surgery For Failed Implant: A Case Report
K K Varma

H.S. Bisoniya

Shashank Agarwal

Sandeep Sharma
Keywords:
Pseudoaneurysms, synovectomy, arthroscopic procedures
Abstract
Arterial pseudoaneurysm formation is a rare entity following elective and trauma orthopaedic surgery. Pseudoaneurysms have been reported to occur following total knee arthroplasty, synovectomy and arthroscopic procedures. Here we report a case in which we encountered heavy bleeding while reoperating a case of the broken plate from the operated # shaft femur. On exploration, it was found that there was a pseudoaneurysm in the femoral artery size of rent 3mm, which probably was formed in his first surgery, which incidentally gave way and bled profusely.
Downloads
Download data is not yet available.
References
1. Rossi G, Mavrogenis A, Angelini A, Rimondi E, Battaglia M, Ruggieri P. Vascular complications in orthopaedic surgery. J Long Term Eff Med Implants. 2011;21(2):127-37. doi: 10.1615/jlongtermeffmedimplants.v21.i2.30.

2. Kim JW, Lee JI, Park KC. Pseudoaneurysm of the deep femoral artery caused by a guide wire following femur intertrochanteric fracture with a hip nail: A case report. Acta Orthop Traumatol Turc. 2017 May;51(3):266-269. doi: 10.1016/j.aott.2017.03.011.

3. Shaw A, Stephen A, Lund J, Bungay P, Denunzio M. Geniculate arterial pseudoaneurysm formation following trauma and elective orthopaedic surgery to the knee: 2 case reports and a review of the literature. J Radiol Case Rep. 2009;3(3):12-6. doi: 10.3941/jrcr.v3i3.42.

4. Preuss, Fletcher R., Michael M. Hadeed, and David B. Weiss. Delayed vascular complications after orthopaedic surgery: A report of two cases and review of the literature." Journal of Orthopaedics, Trauma and Rehabilitation 26.1 (2019): 48-51.

5. Dhal A, Chadha M, Lal H, Singh T, Tyagi S. Encounters with pseudoaneurysms in orthopaedic practice. Injury. 2001 Dec;32(10):771-8. doi: 10.1016/s0020-1383(01)00094-8.

6. Inamdar D, Alagappan M, Shyam L, Devadoss S, Devadoss A. Pseudoaneurysm of anterior tibial artery following tibial nailing: a case report. J Orthop Surg (Hong Kong). 2005 Aug;13(2):186-9. doi: 10.1177/230949900501300216.

7. Coupe KJ, Beaver RL. Arterial injury during retrograde femoral nailing: a case report of injury to a branch of the profunda femoris artery. J Orthop Trauma. 2001 Feb;15(2):140-3. doi: 10.1097/00005131-200102000-00013.

8. Toyota T, Horiuchi H, Takizawa T, Yamazaki I, Matsunaga D, Nakamura Y, et al. A case of femoral pseudoaneurysm after surgery for intertrochanteric fracture. J Orthop Sci. 2017 Mar;22(2):362-365. doi: 10.1016/j.jos.2015.07.003.

9. Chan WS, Kong SW, Sun KW, Tsang PK, Chow HL. Pseudoaneurysm and intramuscular haematoma after dynamic hip screw fixation for intertrochanteric femoral fracture: a case report. J Orthop Surg (Hong Kong). 2010 Aug;18(2):244-7. doi: 10.1177/230949901001800222.

10. Yang KH, Park HW, Park SJ. Pseudoaneurysm of the superficial femoral artery after closed hip nailing with a Gamma nail: report of a case. J Orthop Trauma. 2002 Feb;16(2):124-7. doi: 10.1097/00005131-200202000-00009.

11. Kragh JF Jr, Walters TJ, Baer DG, Fox CJ, Wade CE, Salinas J, et al. Practical use of emergency tourniquets to stop bleeding in major limb trauma. J Trauma. 2008 Feb;64(2 Suppl):S38-49; discussion S49-50. doi: 10.1097/TA.0b013e31816086b1.

12. Kronzon I. Diagnosis and treatment of iatrogenic femoral artery pseudoaneurysm: a review. J Am Soc Echocardiogr. 1997 Apr;10(3):236-45. doi: 10.1016/s0894-7317(97)70061-0. Erratum in: J Am Soc Echocardiogr 1997 Jun;10(5):30A-31.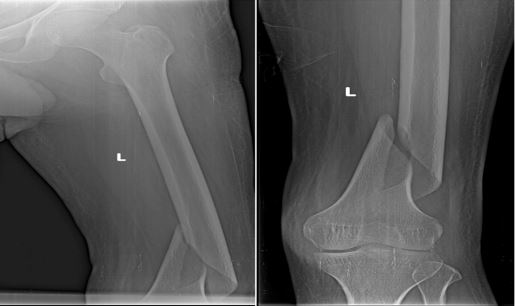 How to Cite
K K Varma, H.S. Bisoniya, Shashank Agarwal, & Sandeep Sharma. (2022). Incidental Finding Of Pseudo Aneurysm Of Superficial Femoral Artery And Severe Life-Threatening Bleeding From it During Revision Surgery For Failed Implant: A Case Report. Surgical Review: International Journal of Surgery, Trauma and Orthopedics, 8(6), 29-34. Retrieved from https://surgical.medresearch.in/index.php/ijoso/article/view/263
Copyright (c) 2022 Author (s). Published by Siddharth Health Research and Social Welfare Society
This work is licensed under a Creative Commons Attribution 4.0 International License.