Correlation of clinical radiological features with histopathology and IHC to predict aggressive be-haviour of soft tissue sarcomas
Mandava Sumanth

Assistant Professor, Department of Surgical Oncology, GSL Medical College, Rajahmundry, A.P, India

Goginenu Tarun Chowdary

Associate Professor, Department of Surgical Oncology, GSL Medical College, Rajahmundry, A.P, India

T Jaya Chandra

Professor, Central Research Lab, GSL Medical College, Rajahmundry, A.P, India

Sriram Burugupalli

Assistant Professor, Department of Surgical Oncology, GSL Medical College, Rajahmundry, A.P, India
Keywords:
Cancer, Histopathology, Staining, Tumor
Abstract
Introduction: A study was taken to assess the pathological predictors of aggressive behaviour ofsoft tissue sarcomas (STSs) and also to the correlation of STSs with clinical, radiological ofhistopathological techniques.
Materials and methods: This was a prospective conducted fromJanuary 2016 to June 2017. All those coming to this institute with oral and oropharyngeal squamouscell cancers (SCCs) included. Smokers, tobacco chewers were not considered. Punch biopsy andsurgical biopsy were taken, respectively from inoperable and operable cases, paraffin blocks wereprepared. Tissue microarray (TMA) were constructed using these blocks. Tissue inhibitor ofmetalloproteinases 1 (TIMP 1) stain-ing was assessed on the cell membrane and cytoplasm of thetumour cells (TCs). Two areas that showed high-density stained cells were selected, several stainedTCs was counted. The intensity of staining was classified as negative, weak, moderate and strong.AXL kinase staining was scored as 0, 1+, 2+, and 3+. Eps8 staining was ranged from negative (0),to strong and diffuse (3+). P less than 0.05 was considered statistically significant.
Results: A totalof 30 (100%) partic-ipants were included. With TIMP 1 expression, in normal mucosa, 63.3% (19)specimens did not stain; statistically, there was a significant difference. Around 53.3% (16) ofnormal mucosa did not stain with EPS8; statistically, there was a significant difference. In thesamples of SCC, 60% (18) showed 3+ sting and 40% (12) showed 2+. Statistically, there was asignificant difference.
Conclusion: The expression of TIMP1, EPS8 and AXL establish their role inthe pathogenesis of oral and oropharyngeal SCCs
Downloads
Download data is not yet available.
References
1. Oral and Oropharyngeal Cancer: Available at: https://www.cancer.net/cancer-types/oral-and-oropharyngeal-cancer/statistics (Accessed 10 Dec 2021).
2. Ncrpindia.org 2017. Three year report of PBCR 2012-2014. http://www.ncrpindia.org/ALL_NCRP_REPORTS/PBCR_REPORT_2012_2014/index.htm (Accessed 10 Dec 2021).
3. National Cancer Registry Program, Indian Council of Medical Research, government of In-dia 2009. Consolidated report of HBCR: 2004 – 2006. Bangalore, India. https://ncdirindia.org/ncrp/HBCR_2004_2006/Preliminary_Pages_HBCR_Report_2004_06.pdf
4. Nanjappa V, Renuse S, Sathe G, Raja R, Syed N, Radhakrishnan A et al. Chronic exposure to chewing tobacco selects for overexpression of stearoyl-CoA desaturase in normal oral keratinocytes. Cancer Biology & Therapy. 2015; 16 (11): 1593 – 1603. doi: 10.1080/15384047.2015.1078022
5. Kumar M, Nanavati R, Modi TG, Dobariya C. Oral cancer: Etiology and risk factors: A re-view. J Can Res Ther. 2016; 12: 458 – 63. doi: 10.4103/0973-1482.186696
6. What Are Oral Cavity and Oropharyngeal Cancers? [Internet]. Cancer.org. 2017 [cited 10 December 2017]. Available from: https://www.cancer.org/cancer/oral-cavity-and-oropharyngeal-cancer/about/what-is-oral-cavity-cancer.html
7. Yoshizaki T, Maruyama Y, Sato H, Furukawa M. Expression of tissue inhibitor of matrix metalloproteinase-2 correlates with activation of matrix metalloproteinase-2 and predicts poor prognosis in tongue squamous cell carcinoma. Int J Can. 2001; 95(1): 44 – 50. doi: 10.1002/1097-0215(20010120)95:1<44::aid-ijc1008>3.0.co;2-m.
8. Vicente JC, Fresno MF, Villalain L, Vega JA, Arranz JS. Immunoexpression and prognos-tic significance of TIMP-1 and TIMP-2 in oral squamous cell carcinoma. Oral Oncology. 2005; 41: 568 – 79. doi: 10.4103/0973-029X.119740
9. Hsieh MS, Yang PW, Wong LF, Lee JM. The AXL receptor tyrosine kinase is associated with adverse prognosis and distant metastasis in esophageal squamous cell carcinoma. On-cotarget. 2016; 7(24): 36956 – 70. doi:10.18632/oncotarget.9231.
10. Brand TM, Iida M, Stein AP, Corrigan KL, Braverman CM, Coan JP. et al. AXL is a logical molecular target in head and neck squamous cell carcinoma. Clin Cancer Res. 2015; 21: 2601 – 12. DOI: 10.1158/1078-0432.CCR-14-2648
11. Benn, TM, Jenei V, Lopes VV, Moutasim KA, Paterson IC, Robinson CM, Threadgold SP, Thomas GJ, Wei W, Yap LF. Upregulation of Eps8 in oral squamous cell carcinoma pro-motes cell migration and invasion through integrin-dependent Rac1 activation. Oncogene. 2009; 28: 2524 – 34. DOI: 10.1038/onc.2009.105
12. Subramani R, Lopez-Valdez R, Arumugam A, Nandy S, Boopalan T, Lakshmanaswamy R. Targeting insulin-like growth factor 1 receptor inhibits pancreatic cancer growth and me-tastasis. PLoS One 2014; 9: e97016. https://doi.org/10.1371/journal.pone.0097016
13. Chang SS, Jiang WW, Smith I, Glazer C, Sun WY, Mithani S, Califano JA. Chronic ciga-rette smoke extract treatment selects for apoptotic dysfunction and mitochondrial muta-tions in minimally transformed oral keratinocytes. Int J Cancer 2010; 126: 19 – 27. doi: 10.1002/ijc.24777.
14. Brait M, Munari E, LeBron C, Noordhuis MG, Begum S, Michailidi C, Gonzalez-Roibon N, Maldonado L, Sen T, Guerrero-Preston R, et al. Genome-wide methylation profiling and the PI3K-AKT pathway analysis associated with smoking in urothelial cell carcinoma. Cell Cycle 2013; 12: 1058 – 70. doi: 10.4161/cc.24050
15. Chang X, Ravi R, Pham V, Bedi A, Chatterjee A, Sidransky D. Adenylate kinase 3 sensitiz-es cells to cigarette smoke condensate vapor induced cisplatin resistance. PLoS One 2011; 6: e20806. doi: 10.1371/journal.pone.0020806.
16. Kim MS, Huang Y, Lee J, Zhong X, Jiang WW, Ratovitski EA, Sidransky D. Cellular trans-formation by cigarette smoke extract involves alteration of glycolysis and mitochondrial function in esophageal epithelial cells. Int J Cancer 2010; 127: 269 – 81. doi: 10.1002/ijc.25057
17. Bock FG, Moore GE, Crouch SK. Tumor-Promoting Activity of Extracts of Unburned To-bacco. Science 1964; 145: 831 – 3. doi: 10.1126/science.145.3634.831.
18. Singh R, Haridas N, Patel J, Shah F, Shukla S, Shah P et al. Matrix Metalloproteinases and Their Inhibitors: Correlation with Invasion and Metastasis in Oral Cancer. Ind J Clin Bioch. 2010; 25(3): 250 – 9. doi: 10.1007/s12291-010-0060-8
19. Jenei V, Robinson C, Moutasim K, Benn T, Threadgold S et al. Upregulation of Eps8 in oral squamous cell carcinoma promotes cell migration and invasion through integrin-dependent Rac1 activation. Oncogene. 2009; 28(27): 2524 – 34. doi: 10.1038/onc.2009.105.
20. Lee C, Yen C, Liu S, Chen C, Chiang C, Shiah S et al. Axl Is a Prognostic Marker in Oral Squamous Cell Carcinoma. Annals of Surgical Oncology. 2011; 19(S3): 500 – 8. doi: 10.1245/s10434-011-1985-8.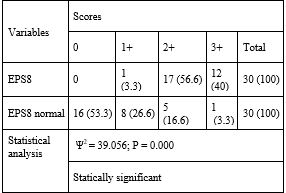 How to Cite
Mandava Sumanth, Goginenu Tarun Chowdary, T Jaya Chandra, & Sriram Burugupalli. (2022). Correlation of clinical radiological features with histopathology and IHC to predict aggressive be-haviour of soft tissue sarcomas. Surgical Review: International Journal of Surgery, Trauma and Orthopedics, 8(1), 1-6. Retrieved from https://surgical.medresearch.in/index.php/ijoso/article/view/254
Copyright (c) 2022 Author (s). Published by Siddharth Health Research and Social Welfare Society
This work is licensed under a Creative Commons Attribution 4.0 International License.