A Clinical Study To Evaluate Functional Outcome Of Distal Humerus Fractures In Adult Age Group Treated With Different Modalities
Harsh Patel

Senior Resident

Baiju Patel

Senior Resident

Divyesh Jetpariya

Senior Resident

Parth Patel
Keywords:
Distal Humerus, Dual Platting, K-wire fixation
Abstract
Introduction: We live in a society with a growing elderly population and a young population in which extreme sports and high speed motor transportation are popular, therefore the incidence of distal humeral fractures is likely to increase. The purpose of this study is to evaluate the functional  outcome of distal humeral fractures in adults treated with different modality.
Material and Method: This was a prospective study includes 29 cases of distal humerus fractures who were treated surgically at C U Shah Medical College and Hospital, Surendranagar from June 2018 to June 2020 in which 17 were females and 12 were males.
Result: According to Mayo Elbow Performance Index (MEPI) scoring system, we had 18(62.07%) patients with excellent result, 8(27.58%) patients with good result, 2(6.9%) patient with fair result and 1(3.45%) patients with poor result. Complication were seen in 15 patients out of which most common was elbow stiffness seen in 7 patients.
Conclusion: Open reduction and internal fixation can be considered as the treatment of choice if there were no contraindication for this because it is important to maintain length, axial alignment, joint congruity and rotational alignment if a good range of motion is to be restored. This is achieved in present study.
Downloads
Download data is not yet available.
References
1. Riseborough EJ, Radin El. Intercondylar T fractures of the distal humerus.A comparison between operative and non-operative treatment in twenty nine cases. J Bone and Joint Surgery Am 1969; 51 (1):130-141

2. Buckolz, Court-brown, Heckermen, Tornetta. Rockwood and Green's Fracture in Adults 7th edition, Volume one. Lippincott Williams & Wilikins.

3. Robert Bucholz, James D. Heckman, Charles Court-Brown. Rockwood and Green's Fractures in Adults, Vol 1, 6th ed. Lippincott Williams & Wilkins.


4. Lakhey S, Sharma S1, Pradhan RL1, Pandey BK1, Manandhar RR1, Rijal
KP. Osteosynthesis of inter-condylar humerus fracture using bryan and morrey approach. Kathmandu University Medical Journal (2010), Vol. 8, No. 2, Issue 30, 154-157.

5. M Dhawan, VK Nijhawan, SP Mandal, PS Maini. Closed intra- articular fractures of the distal end of the humerus – Operative treatment and results. Indian Journal of Orthopedics Vol. 37, No.3, July 2003.

6. Michael D Mckee, TRACY L. WILSON, LUCY WINSTON, EMIL H. SCHEMITSCH, ROBIN R. RICHARDS. Functional Outcome Following Surgical Treatmentof Intra-Articular Distal Humeral Fractures Through a Posterior Approach. JBJS Vol82 A, No 12, December 2000.
7. Amite Pankaj, G Mallinath, Rajesh Malhotra, Surya Bhan. Surgical management of inter-condylar fractures of the humerus using triceps refl ecting anconeus pedicle (TRAP) approach IJO - July - September 2007 / Volume 41 / Issue 3.

8. Ibomcha Singh, Sanjib Waikhom. Internal fixation of type C fracture of distal humerus. Indian Journal of orthopaedics April 2004 Volume 38 : Number 2 : P. 110-112


9. Joaquin Sanchez-Sotelo, Michael E. Torchia, and Shawn W. O'Driscoll. Complex Distal Humeral Fractures: Internal Fixation with a Principle-Based Parallel-Plate Technique. J Bone Joint Surg Am. 2007;89:961-9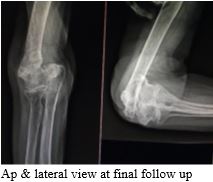 How to Cite
Patel, H., Patel, B., Jetpariya, D., & Patel, P. (2022). A Clinical Study To Evaluate Functional Outcome Of Distal Humerus Fractures In Adult Age Group Treated With Different Modalities. Surgical Review: International Journal of Surgery, Trauma and Orthopedics, 7(5), 116-122. Retrieved from https://surgical.medresearch.in/index.php/ijoso/article/view/246
Copyright (c) 2022 Author (s). Published by Siddharth Health Research and Social Welfare Society
This work is licensed under a Creative Commons Attribution 4.0 International License.