Clinical Profile and Outcome of Acute Pancreatitis in Rural Population in South India
Dr. K K Saravanan

Senior Civil Surgeon, Government Head Quarters Hospital, Tirupur, Tamil Nadu, India

Dr. Mohamed Mubarak Ali V A

Assistant Surgeon, Government Head Quarters Hospital, Tirupur, Tamil Nadu, India
Keywords:
Acute Pancreatitis, Alcohol, Gall stones
Abstract
Introduction: Acute pancreatitis is one of the most common cause of acute abdominal pain with a wide range of presentation from mild to multi-organ failure; hence we intended to study the clinical profile of acute pancreatitis in our study.
Methods: All subjects admitted with acute pancreatitis above the age of 18 years; both male and female willing to participate were included in the study. 60 subjects were studied where males dominate the study.
Results: Alcohol intake and gall stone being the etiological cause for the illness.
Conclusion: The recovery rate was 95% with no mortality was observed in our study.
Downloads
Download data is not yet available.
References
Skaife P, Kingsnorth AN. Acute pancreatitis: assessment and management. Postgrad Med J. 1996;72(847):277-283. doi:10.1136/pgmj.72.847.277
Matar ZS. Clinical pattern of acute pancreatitis. Internet J Surg. 2007;11(1):39-44.
Munsell MA, Buscaglia JM. Acute pancreatitis. J Hosp Med. 2010 Apr;5(4):241-50. doi: 10.1002/jhm.574.
Yeung YP, Lam BY, Yip AW. APACHE system is better than Ranson system in the prediction of severity of acute pancreatitis. Hepatobiliary Pancreat Dis Int. 2006 May;5(2):294-9.
Mofidi R, Patil PV, Suttie SA, Parks RW. Risk assessment in acute pancreatitis. Br J Surg. 2009 Feb;96(2):137-50. doi: 10.1002/bjs.6431.
Negi N, Mokta J, Sharma B, Sharma R, Jhobta A, Bodh V, Ranjan A. Clinical Profile and Outcome of Acute Pancreatitis: A Hospital-Based Prospective Observational Study in Subhimalayan State. J Assoc Physicians India. 2018 Mar;66(3):22-4.
Ahmed KU, Ahmad MA, Alim MA, EkramARMS. Clinical profile of acute pancreatitis in a teaching hospital. Bang Med J Khulna 2016; 49:7-12.
Ramu R, Paul V, Devipriya S and Philip NC. Etiology, clinical profile and outcome of acute pancreatitis in a tertiary care teaching hospital in rural South India: a ten-year retrospective study. Int Surg J. 2019;(6):3794-3799.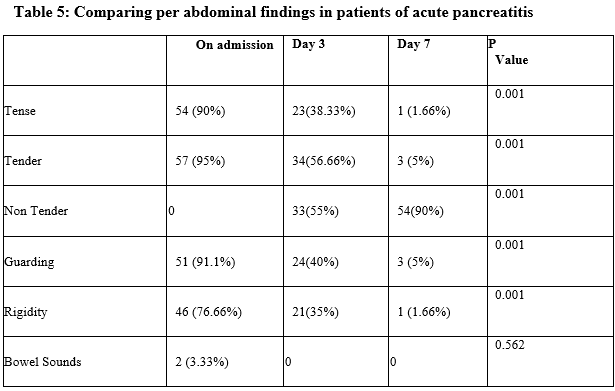 CITATION
DOI: 10.17511/ijoso.2021.i02.02
How to Cite
Dr. K K Saravanan, & Dr. Mohamed Mubarak Ali V A. (2021). Clinical Profile and Outcome of Acute Pancreatitis in Rural Population in South India. Surgical Review: International Journal of Surgery, Trauma and Orthopedics, 7(2), 06-09. https://doi.org/10.17511/ijoso.2021.i02.02
Copyright (c) 2021 Author (s). Published by Siddharth Health Research and Social Welfare Society
This work is licensed under a Creative Commons Attribution 4.0 International License.