A rare case of superior ileocecal recess hernia
Dr. M. Illangovan

Professor, Department of Surgery, Government Theni Medical College, Theni, Tamil Nadu, India

Dr. K. Ashok Kumar

Assistant Professor, Department of Surgery, Government Theni Medical College, Theni, Tamil Nadu, India

Dr. Shivanshu Misra

Consultant Gastro And Laparoscopic Surgeon, Shivani hospital and IVF Center, Kanpur, Uttar Pradesh, India

https://orcid.org/0000-0001-5160-6211
Keywords:
Small bowel obstruction, Superior ileocecal recess hernia, Internal hernia
Abstract
Internal hernias are a rare cause of small bowel obstruction, and one such internal hernia is superior ileocecal recess hernia, the subtype of pericycle hernia. The present study reports a case of small bowel obstruction due to superior ileocecal hernia for which laparotomy was performed. The surgery achieved a good outcome.
Downloads
Download data is not yet available.
References
Choh NA, Rasheed M, Jehangir M. The computed tomography diagnosis of paracecal hernia. Hernia. 2010;14(5):527-529.
Sasaki K, Kawasaki H, Abe H, Nagai H, Yoshimi F. Retrocecal hernia successfully treated with laparoscopic surgery: a case report and literature review of 15 cases in Japan. Int J Surg Case Rep. 2016;18:45-47.
Selcuk D, Kantarci F, Oğüt G, Korman U. Radiological evaluation of internal abdominal hernias. Turk J Gastroenterol. 2005;16(2):57-64.
) Lu HC, Wang J, Tsang YM, Tseng HS, Li YW. Pericecal hernia: a report of two cases and survey of the literature. Clinical Radiol. 2002;57(9):855-858.
Kleyman S, Ashraf S, Daniel S, Ananthan D, Sanni A, Khan F. Pericecal hernia: a rare form of internal hernias. J Surg Case Rep. 2013;(2).
Omori H, Asahi H, Inoue Y, Irinoda T, Saito K. Laparoscopic paracecal hernia repair. J Laparoendos Advan Surg Tech. 2003;13(1):55-57.
Ogami T, Honjo H, Kusanagi H. Pericecal hernia manifesting as a small bowel obstruction successfully treated with laparoscopic surgery. J Surg Case Rep. 2016;2016(3):rjw020.
Kabashima A, Ueda N, Yonemura Y, Mashino K, Fujii K, Ikeda T, et al. Laparoscopic surgery for the diagnosis and treatment of a paracecal hernia repair: report of a case. Surg. 2010;40(4):373-375.
Agha RA, Fowler AJ, Saeta A, Barai I, Rajmohan S, Orgill DP, et al. The SCARE statement: consensus-based surgical case report guidelines. Int J Surg. 2016;34:180-186.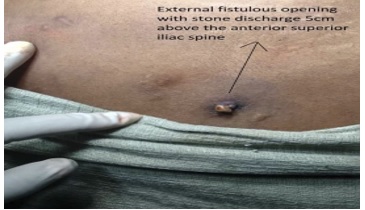 How to Cite
Dr. M. Illangovan, Dr. K. Ashok Kumar, & Dr. Shivanshu Misra. (2020). A rare case of superior ileocecal recess hernia. Surgical Review: International Journal of Surgery, Trauma and Orthopedics, 6(04), 286-289. https://doi.org/10.17511/ijoso.2020.i04.11
Copyright (c) 2020 Author (s). Published by Siddharth Health Research and Social Welfare Society
This work is licensed under a Creative Commons Attribution 4.0 International License.