Higher patient satisfaction levels after Stapled Hemorrhoidopexy compared to Conventional Hemorrhoidectomy- a single-center experience
Dr. Mahesh Ram

Assistant Professor, Department of Surgery, L.N. Medical College and Research Centre, Bhopal, Madhya Pradesh, India

Dr. Shehtaj Khan

Associate Professor, Department of Surgery, L.N. Medical College and Research Centre, Bhopal, Madhya Pradesh, India

Dr. Amit Tiwari

Resident, Department of Surgery, L.N. Medical College and Research Centre, Bhopal, Madhya Pradesh, India

Dr. Tarun Sainia

Associate Professor, Department of Surgery, L.N. Medical College and Research Centre, Bhopal, Madhya Pradesh, India

Dr. Krishn Anand

Professor and Head, Department of Surgery, L.N. Medical College and Research Centre, Bhopal, Madhya Pradesh, India
Keywords:
Stapled hemorrhoidopexy, Day-care procedure, Hemorrhoids, Postoperative pain, Hemorrhoidectomy
Abstract
Introduction: Studies have suggested that stapled hemorrhoidopexy results in less postoperative pain and shorter recovery compared with conventional surgery, but a higher rate of recurrence. The present study aimed to assess the advantage and feasibility of stapled hemorrhoidopexy versus conventional hemorrhoidectomy in grade 3 and grade 4 hemorrhoids and to compare the short-term outcomes of stapled hemorrhoidopexy with conventional hemorrhoidectomy in a teaching hospital in Central India.
Methods: After fulfilling the selection criteria, 100 patients were randomly allocated to the stapled (n = 50) or conventional group (n = 50). All patients were operated under spinal anesthesia. The 2 techniques were evaluated with respect to the operative time, pain scores, complications, hospital stay, return to work, and level of satisfaction. The follow-up period was 6 months.
Results: The mean age of patients was 46.02 years in the stapled group and 48.64 years in the conventional group. Hemorrhoids were more common in men. The mean operative time was shorter in the stapled group (24.28 ± 4.25 minutes) versus 45.41 ± 6.36 minutes in the conventional group (P < 0.05). The blood loss and pain scores were significantly less in the stapled group.
Conclusion: Stapled hemorrhoidopexy is a safe and effective day-care procedure for the treatment of grade 3 and grade 4 hemorrhoids. It ensures lesser postoperative pain, early discharge, less time off work, and complications similar to the conventional technique, and in the end a more satisfied patient with no perianal wound.
Downloads
Download data is not yet available.
References
Longo A. Treatment of hemorrhoidal disease by reduction of mucosa and hemorrhoidal prolapse with a circular-suturing device: a new procedure. In: Proceedings of the 6th World Congress of Endoscopic. Rome, Italy: Surgery; 1998.
Longo A. Pain after stapled haemorrhoidectomy. The Lancet. 2000;356(9248):2189-2190.
Longo A, Bittner JR, Hacker RL, inventors; Ethicon Endo Surgery Inc, assignee. Method of use of a circular stapler for hemorrhoidal procedure. United States patent US 6,083,241. 2000 Jul 4.
Kirsch JJ, Staude G, Herold A. The Longo and Milligan-Morgan hemorrhoidectomy. A prospective comparative study of 300 patients. Der Chirurg; Zeitschrift fur alle Gebiete der operativen Medizen. 2001;72(2):180-185.
Pavlidis T, Papaziogas B, Souparis A, Patsas A, Koutelidakis I, Papaziogas T. Modern stapled Longo procedure vs. conventional Milligan-Morgan hemorrhoidectomy: a randomized controlled trial. Int J Colorect Dis. 2002;17(1):50-53.
Shao WJ, Li GC, Zhang ZK, Yang BL, Sun GD, Chen YQ. Systematic review and meta‐analysis of randomized controlled trials comparing stapled haemorrhoidopexy with conventional haemorrhoidectomy. Brit J Surg. 2008;95(2):147-160.
Ommer A, Hinrichs J, Möllenberg H, Marla B, Walz MK. Long-term results after stapled hemorrhoidopexy: a prospective study with a 6-year follow-up. Dis Col Rec. 2011;54(5):601-608.
Kim JS, Vashist YK, Thieltges S, Zehler O, Gawad KA, Yekebas EF, et al. Stapled hemorrhoidopexy versus Milligan–Morgan hemorrhoidectomy in circumferential third-degree hemorrhoids: long-term results of a randomized controlled trial. J Gastrointest Surg. 2013;17(7):1292-1298.
Giordano P, Gravante G, Sorge R, Ovens L, Nastro P. Long-term outcomes of stapled hemorrhoidopexy vs conventional hemorrhoidectomy: a meta-analysis of randomized controlled trials. Arch Surg. 2009;144(3):266-272.
Smyth EF, Baker RP, Wilken BJ, Hartley JE, White TJ, Monson JR. Stapled versus excision haemorrhoidectomy: long-term follow up of a randomised controlled trial. The Lancet. 2003;361(9367):1437-1438.
Rowsell M, Bello M, Hemingway DM. Circumferential mucosectomy (stapled haemorrhoidectomy) versus conventional haemorrhoidectomy: randomised controlled trial. The Lancet. 2000;355(9206):779-81.
Stadt JV, D'Hoore A, Duinslaeger M, Chasse E, Penninckx F. Long-term results after excision haemorrhoidectomy versus stapled haemorrhoidopexy for prolapsing haemorrhoids a belgian prospective randomized trial. Acta Chirurgica Belgica. 2005;105(1):44-52.
Nunoo-Mensah JW, Kaiser AM. Stapled hemorrhoidectomy. Am J Surg. 2005;190(1):127-130.
Ebert KH, Meyer HJ. Results two years after stapler hemorrhoidectomy versus Milligan-Morgan procedure. Zentralblatt fur Chirurgie. 2002;127(1):9-14.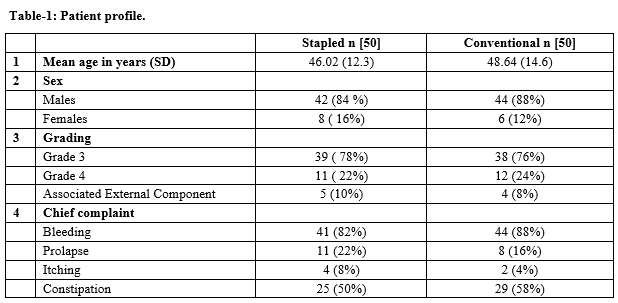 How to Cite
Dr. Mahesh Ram, Dr. Shehtaj Khan, Dr. Amit Tiwari, Dr. Tarun Sainia, & Dr. Krishn Anand. (2020). Higher patient satisfaction levels after Stapled Hemorrhoidopexy compared to Conventional Hemorrhoidectomy- a single-center experience. Surgical Review: International Journal of Surgery, Trauma and Orthopedics, 6(04), 248-252. https://doi.org/10.17511/ijoso.2020.i04.05
Copyright (c) 2020 Author (s). Published by Siddharth Health Research and Social Welfare Society
This work is licensed under a Creative Commons Attribution 4.0 International License.