Endometriotic rectosigmoid stricture- a rare clinical entity
Dr. Balu Kuppusamy

Consultant, Surgical Gastroenterologist, PSG Hospitals and IMSR Coimbatore, Tamil Nadu, India

Dr. Shivanshu Misra

Surgical Gastroenterologist and Advanced Laparoscopic Surgeon, GEM Hospital and Research Center, Tamil Nadu, India

https://orcid.org/0000-0001-5160-6211
Keywords:
Isolated sigmoid endometriosis, Bowel obstruction, CT colonogram, rare case
Abstract
Endometriosis is defined as the presence of endometrial mucosa implanted in locations other than the uterine cavity. Endometriosis is usually a disease involving women of reproductive age. A probable estimate is that 5–10% of women in their reproductive age have endometriosis. When they do occur, women experience mostly dysmenorrhea, heavy or irregular periods, pelvic pain or dyspareunia. The most common sites for endometriosis are the ovaries (60%), uterosacral ligament (60%), posterior cul-de-sac (28%), broad ligament (15%), bladder (15%) and sigmoid colon (7%). Colonic endometriosis is a rare sequelae. It usually presents vaguely with nonspecific abdominal pain, dyspareunia, tenesmus, rectal bleeding or painful defecation. Laparoscopy is considered the best diagnostic modality for endometriosis with a sensitivity of 97% and specificity of 77%. Although there are some rare cases of large bowel obstruction due to endometriosis in pre-menopausal women, it is extremely rare in the postmenopausal group. Our report highlights such a case, mimicking a malignant rectosigmoid stricture leading to a large bowel obstruction with minimal extracolonic endometriosis involvement.
Conclusion: This case report shows that colonic endometriosis, although rare, can be significantly infiltrative and lead to complications such as a large bowel obstruction. Very rarely, isolated colonic involvement without pelvic endometriosis can mimic malignant obstruction as in this patient. Diagnosing this condition can be challenging and usually requires histological confirmation.
Downloads
Download data is not yet available.
References
Sampson JA. Metastatic or embolic endometriosis, due to the menstrual dissemination of endometrial tissue into the venous circulation. Am J Pathol. 1927;3(2):93-110.
Douglas C, Rotimi O. Extragenital endometriosis—a clinicopathological review of a Glasgow hospital experience with case illustrations. J Obstet Gynaecol. 2004;24(7):804-808. doi: https://doi.org/10.1080/01443610400009568.
Prystowsky JB, Stryker SJ, Ujiki GT, Poticha SM. Gastrointestinal endometriosis. Incidence and indications for resection. Arch Surg. 1988;123(7):855-858. doi: https://doi.org/10.1001/archsurg.1988.01400310069011.
Giudice LC. Clinical practice. Endometriosis. N Engl J Med. 2010;362(25):2389-2398. doi: https://doi.org/10.1056/NEJMcp1000274.
Horton JD, Dezee KJ, Ahnfeldt EP, Wagner M. Abdominal wall endometriosis: a surgeon's perspective and review of 445 cases. Am J Surg. 2008;196(2):207-212. doi: https://doi.org/10.1016/j.amjsurg.2007.07.035.
Remorgida V, Ferrero S, Fulcheri E, Ragni N, Martin DC. Bowel endometriosis: presentation, diagnosis, and treatment. Obstet Gynecol Sur. 2007;62(7):461-470. doi: https://doi.org/10.1097/01.ogx.0000268688.55653.5c.
Koga K, Osuga Y, Yano T, Momoeda M, Yoshino O, Hirota Y, et al in their study saw characteristic images of deeply infiltrating rectosigmoid endometriosis on transvaginal and transrectal ultrasonography. Hum Reprod. 2003;18(6):1328-1333. doi: https://doi.org/10.1093/humrep/deg243.
Moawad NS, Guido R, Ramanathan R, Mansuria S, Lee T. Comparison of laparoscopic anterior discoid resection and laparoscopic low anterior resection of deep infiltrating rectosigmoid endometriosis. JSLS: J Soc Laparoendoscop Surg. 2011;15(3):331-338. doi: https://doi.org/10.4293/108680811X13125733356431.
Cameron IC, Rogers S, Collins MC, Reed MW. Intestinal endometriosis: presentation, investigation, and surgical management. Int J Colorect Dis. 1995;10(2):83-86. doi: https://doi.org/10.1007/bf00341202.
Tade AO. Chronic intestinal obstruction due to rectosigmoid endometriosis: a case report. Nigerian J Med: J Nat Assoc Res Doc Nigeria. 2006;15(2):165-166. doi: http://doi.org/10.4314/njm.v15i2.37104.
Bidarmaghz B, Shekhar A, Hendahewa R. Sigmoid endometriosis in a post-menopausal woman leading to acute large bowel obstruction: a case report. Int J Surg Case Rep. 2016;28:65-67. https://doi.org/10.1016/j.ijscr.2016.09.008.
Yantiss RK, Clement PB, Young RH. Endometriosis of the intestinal tract: a study of 44 cases of a disease that may cause diverse challenges in clinical and pathologic evaluation. Am J Surg Pathol. 2001;25(4):445-454. doi: https://doi.org/10.1097/00000478-200104000-00003.
Synekidou E, Arapoglou S, Tona N, Katsiki E, Tsiachris C, Dimitropoulou I, et al. Gastrointestinal endometriosis: a diagnostic challenge. Hellenic J Surg. 2015;87(5):423-426. doi: https://doi.org/10.1007/s13126-015-0250-1.
Sali PA, Yadav KS, Desai GS, Bhole BP, George A, Parikh SS, et al. Small bowel obstruction due to an endometriotic ileal stricture with associated appendiceal endometriosis: A case report and systematic review of the literature. Int J Surg Case Rep. 2016;23:163-168. doi: https://dx.doi.org/10.1016%2Fj.ijscr.2016.04.025.
Sievert W, Sellin JH, Stringer CA. Pelvic endometriosis simulating colonic malignant neoplasm. Arch Int Med. 1989;149(4):935-938. doi: https://doi.org/10.1001/archinte.1989.00390040131028.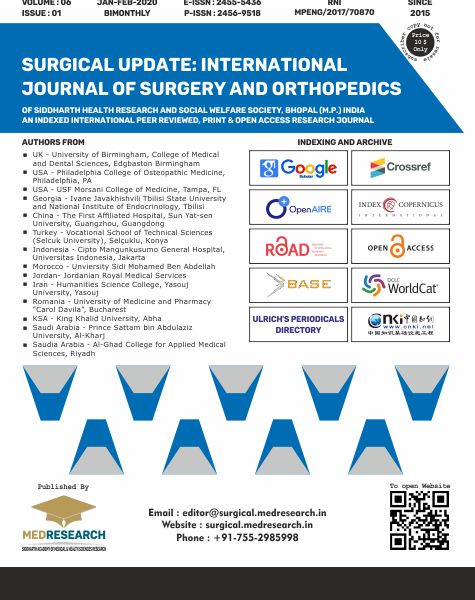 How to Cite
Kuppusamy, B., & Misra, S. (2020). Endometriotic rectosigmoid stricture- a rare clinical entity. Surgical Review: International Journal of Surgery, Trauma and Orthopedics, 6(1), 60-63. https://doi.org/10.17511/ijoso.2020.i01.11
Copyright (c) 2020 Author (s). Published by Siddharth Health Research and Social Welfare Society
This work is licensed under a Creative Commons Attribution 4.0 International License.